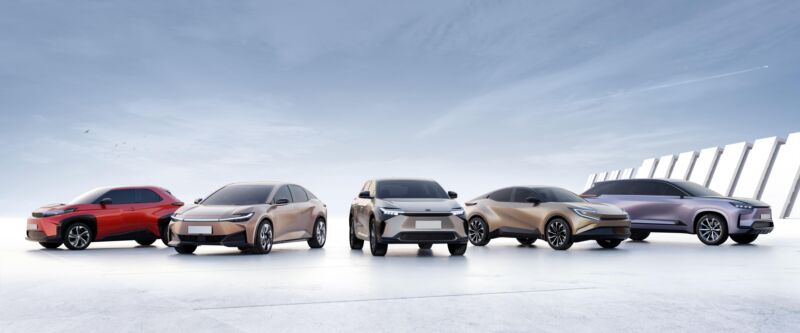 It's all change at the top of the world's largest car maker. Akio Toyoda, grandson of the company's founder and CEO since 2009, is being replaced by former Lexus boss Koji Sato as Toyota's new president and CEO. Toyoda will assume the role of company chairman.
The management changes are seen in large part as the company responding to a need to embrace battery-electric vehicles, a huge growth area in the industry but one that Toyota has seemingly neglected in favor of hybrid and plug-in hybrid vehicles.
At a press conference, Sato and his new management team faced many questions about the company's BEV strategy—or lack thereof. BEVs are important to the company, but "this is by no means a rapid change of direction toward BEVs," Sato said.
"With my background as an engineer, I consider it my job to offer up new options if something is missing from the menu. Given the vastly different energy environments around the world, carbon neutrality is not a problem that can be overcome with a one-size-fits-all solution," Sato said.
Toyota is not the first automaker to see bloodletting at the top in response to a perceived failure to adapt to the EV revolution; in 2019, BMW replaced Harald Krueger as CEO for just that reason.
Too much motorsport, not enough talking to normal people?
Sato acknowledged that Toyota has been slow to develop BEVs, and he added that the company has suffered from a communications problem. Interestingly, he suggested that racing might be part of the issue.
"Perhaps [Toyoda's] strong association with motorsports has led to the disconnect between public perception and the density of actual conversations in the development genba," Sato said. Indeed, Toyoda's interest in motorsport has led to some interesting corporate projects—a Prius-based Super GT car and, more recently, a hydrogen-burning Corolla race car raced by Toyoda himself.
Lexus takes the lead
But from the sounds of it, the incoming team still has plenty of work to do to hit Toyota's goal, which is to sell 1 million Lexus BEVs and 3.5 million Toyota BEVs by 2030. At the end of 2021, the company showed off 17 different models under development, ranging from a box-on-wheels autonomous shuttle to low-slung sports cars, with stops at all points between.
"That said, instead of immediately setting numerical targets, I believe in optimizing business units by first executing on a smaller scale and applying the lessons learned in an agile manner. I think this will be done with Lexus taking the lead and guiding Toyota and will include some agile adjusting while keeping our sights on a minimum of around 1 million vehicles," Sato said.
The US will be one of the principal markets for those BEVs, and thanks to last year's Inflation Reduction Act, a BEV needs to be assembled in North America to qualify for federal tax credits. To that end, Toyota may build BEVs at its factory in Georgetown, Kentucky, according to Nikkei Business Daily. The automaker is already in the process of setting up a battery factory in Liberty, North Carolina, as part of a $3.4 billion investment in batteries for the US market.
Nikkei says that Toyota plans to build 10,000 BEVs a month in Kentucky by 2025; by contrast, it built just 24,000 BEVs globally in 2022.